Swimsuit USA 2019 World Finals
Winner – Lara Zafir – North Queensland, Australia
1st runner-up Sarah Knop – Houston, Texas
2nd runner-up – Liz Kirkness – Sydney, Australia
3rd runner-up – Kianna Stephens – Cornwell, United Kingdom
4th runner-up – Charlotte Cushing – Gold Coast, Australia
Special Award Winners:
Miss Photogenic – Kianna Stephens – United Kingdom
Miss Congeniality – Chanelle Lee Preradovich – Canada
Director's Picks – Kamilla Mihalik & Kalista Itakura
Swimsuit USA 2019 Top 5 with Miss Congeniality and Director's Picks
Miss Photogenic Kianna Stephens

Miss Congeniality Chanelle Lee Preradovich

Director's Pick Kamilla Mihalik

Director's Pick Kalista Itakura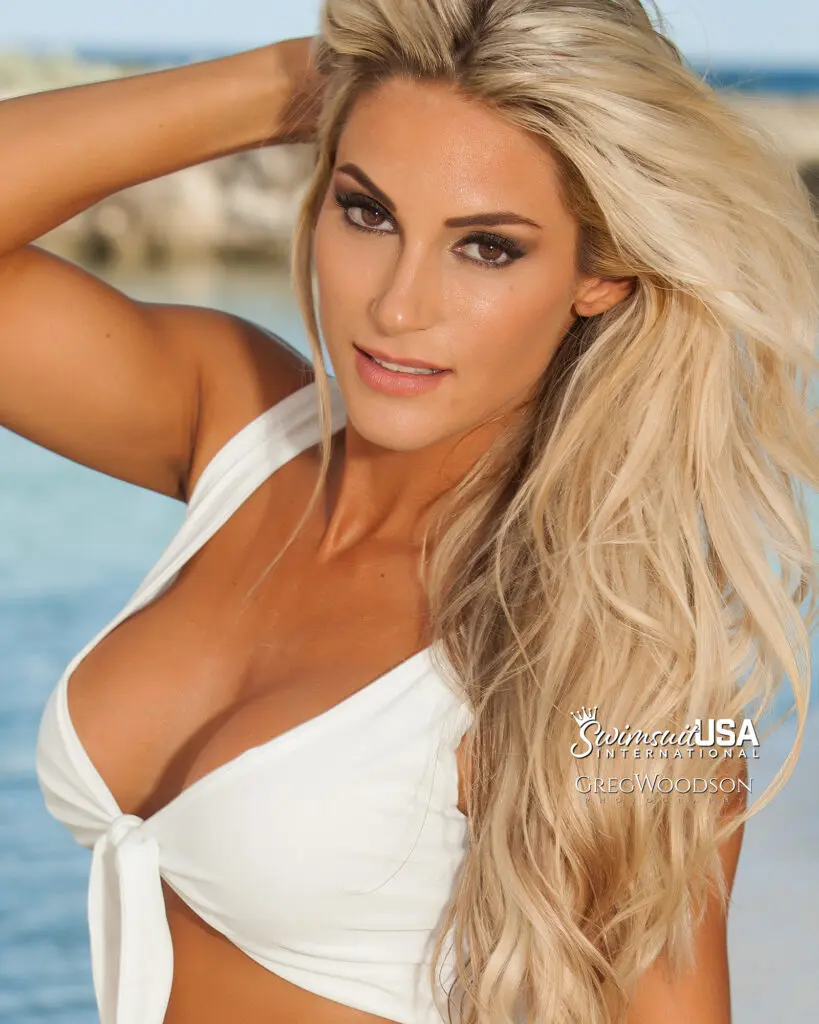 Lara Mitton Zafir – Miss Swimsuit USA International Winner 2020-2021
Lara is a country girl from a small, beach town in the Whitsundays, Australia. As she grew up on the doorstep to the Great Barrier Reef, she has been living in bikinis as long as she can remember.
Lara says "I think the secret to rocking a bikini is feeling good in one!"
Her 1st time on stage, Lara entered a local pageant to grow confidence and learn to overcome stagefright. She ended up having a total blast and won the heat! That ignited a passion for the sparkle and the glamour. After years of hard work, she won a national title, leading her to the Swimsuit USA World Finals. Lara placed in Top 10 the 1st year she competed in Swimsuit USA. The goal didn't stop there. Once she had a taste for the big leagues, Lara was determined to make it to the top.
Lara and her husband, Australian UFC fighter, own a Mixed Martial Arts Gym and Lara has also competed in the ring a few times. It gives me an "all or nothing" attitude. "You win or you learn, then you work on what you've learned and try again". It was that thinking that drove Lara to compete again at Swimsuit USA, where she took home the title of Miss Swimsuit USA International 2020!
The 2019 Swimsuit USA World Finals was held at Sandos – Playacar, Riviera Maya, Mexico. Sandos is a unique, eco-friendly resort. The All-Nature Experience is to emphasize the nature-related experience that Playa Del Carmen has to offer. The week was filled with 74 beautiful models from around the world. The contestants spent time exploring the eco-friendly resort, meeting animals and shooting with 8 professional photographers on the lush property. Sandos features one of the best shows in town.
Swimsuit USA worked closely with Sandos staff to create the best show Swimsuit USA has performed in 10 years. The opening number featured contestants dancing to, "On the Floor" by Jennifer Lopez! The featured dancers from Sandos participated in the Finals Saturday night with fireworks ending the show. There were over 900 people watching! The preliminary competition was held Friday morning. Contestants enjoyed time with their family and friends exploring 5th street in Playa, going to Tequila Barrel and Coco Bongo.