Swimsuit USA 2014 World Finals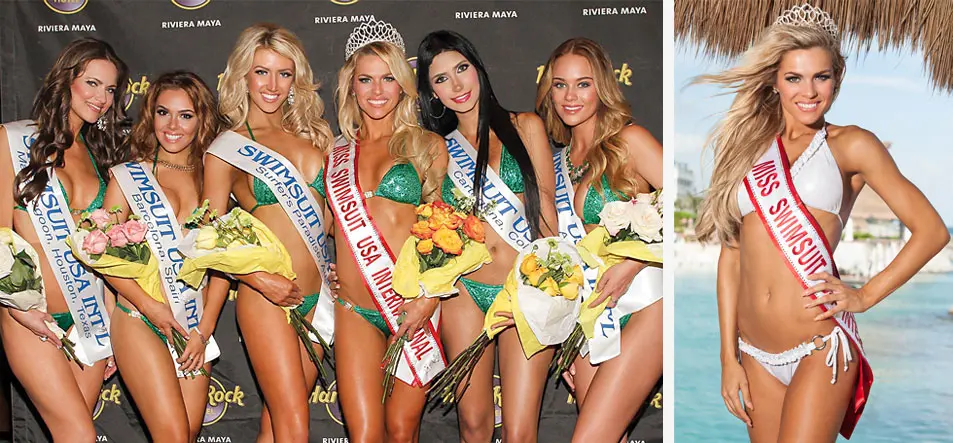 HOUSTON, TEXAS (Monday, November 24, 2014)
Swimsuit USA International, the world's leading and fastest growing model search organization held its 2014 Swimsuit USA International Finals at the luxurious, all-inclusive Hard Rock Hotel Riviera Maya on November 11 – 17, 2014. 75 beautiful women from around the world flocked to Mexico to vie for the coveted title and Adeline Mocke representing Cape Town, South Africa took home the crown.
The contestants enjoyed a week of festivities filled with unforgettable experiences with nature, fun and memorable excursions such as swimming with the dolphins, sea lions and manatees at Dolphin Discovery, snorkeling in exotic locations with Cancun Adventures, a spectacular night out in Playa del Carmen at COCO BONGO and Tequila Barrel! SALT TEQUILA hosted the official Pool Party Friday afternoon where the guest enjoyed samples of the new exciting flavored tequila that has just been released. Contestants were seen around town doing professional photo shoots in beautiful Riviera Maya! All of the 2014 Swimsuit USA International Finalists will be featured in the 25 month Official Swimsuit USA International Calendar.
Visit the official Swimsuit USA Facebook page to check out all the photos from the finals and more. Apple has approved our app and it can be downloaded in the App Store. View the footage from our contestants from around the world and keep updated on all Swimsuit USA events. The finals were fun but there is a lot more coming from Swimsuit USA.
During the week of exciting excursions and breath-taking photo sessions, contestant competed in two days of competition; Friday, November 14 at 11:00am was the "Official Swimsuit Competition" poolside at the Hard Rock Hotel Riviera Maya. The exhilaration and excitement culminated on Saturday, November 16 at 8:00 PM where the International Finalists competed, the Top 24 Finalists where announced and the crowning of the 2015 Miss Swimsuit USA International.
Miss Congeniality went to Laura Alicia Summers of London, England. Miss Photogenic and Swimsuit Winner went to Payton Adkins representing Swimsuit Illustrated. ➤ 2014 Finals Photo Gallery